Keran's service to sport – Central Queensland Today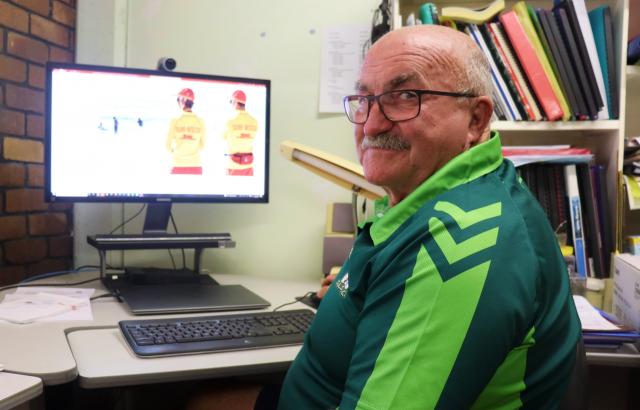 By Matthew Pearce
Keran Maguire, a resident of Park Avenue, said he was afraid someone was "coming after him" when he learned he had been awarded an Order of Australia medal.
Keran was notified of his nomination late last year and got official confirmation on Jan. 4 that he would receive an OAM, which will be presented at an investiture ceremony in September.
"Happy but nervous" about the Australia Day honour, he said many people had been involved in his nomination.
"There are seven that I already know. I was really the last to know," he said.
Keran received his OAM for service to the Rockhampton community, specifically through Surf Life Saving and high school sport.
A science and maths teacher at Rockhampton High School for 25 years, he was heavily involved in sport, before serving as Regional Sports Officer for Education Queensland from 2000 to 2013.
These days, he works as a substitute teacher while traveling to various surf lifesaving events around the state.
"I won't be working during the first term of school this year because I'm never home, I'm just going to one surf carnival after another," he said, after recently visiting Elliott Heads, Maroochydore, Emu Park and Bundaberg.
"I love saving lives in surfing because it's outdoors, there's a lot of camaraderie and you meet a lot of different people, even if they don't all share the same point of view."
An avid sportsman from an early age, he grew up in Maryborough, representing the area in water polo, swimming, rugby league and hockey.
As a youngster, his trainer was Hayden Kenny, father of Grant Kenny and Australia's first ironman champion.
"Maryborough doesn't have surfing, so a teacher would take the two of us to Mooloolaba, where I got my bronze medal. But then my parents moved to Alpha, so that was the end of my surfing career," said he declared.
"When I came here to teach in 1976, the vice principal at Rocky High was the president of the Emu Park Surf Life Saving Club. He noticed I could swim and asked if I wanted to be involved.
From there he quickly rose through the ranks, becoming club captain, chief instructor and boat captain, before having a "slack zone" in the late 80s and 90s when work took over.
"When I retired, I went back to that, but it had been so long that I had to retrain in everything," he said.
These days he remains involved in judging carnivals, with duties such as check starter, statistician and linesman – and he plans to continue his involvement in surf lifesaving for many years to come.
"I'm slowing down but not stopping yet, I have a few more years ahead of me as a coach and assessor and I'm involved with Nippers where at the moment I'm helping my daughter with the Under-8s.
"The younger ones love what they do, they run, swim, ride paddle boards, get knocked down in the waves before getting back up…
"Surf rescue is very family oriented, you have mums, dads and kids all patrolling together.
"I do bronze medal training and it's not just for young kids, that year I got 10 adults up to their bronze medal, ages 35-70."
He said the Emu Park Surf Life Saving Club has been going from strength to strength, with about 220 grippers registered this year compared to 120 last season.
As Rockhampton District High School Athletic Secretary and Treasurer for many years, Keran presided over all major school athletic events in the district, including swimming carnivals, track and field, cross country and Moreover.
"At the time, the Rocky District Athletic Carnival had 2,000 kids competing, that was huge. Now there are only about 300 competing, which is a shame.
He said he had met several thousand people during his career.
"Even just at Rocky High, every year there's probably up to 400 new kids coming in, multiply that by 25 and that's a lot of people."
He said school sport has changed over the years, but not always for the better.
"Schools are devaluing sport these days, I hope that changes and they wake up," he said.
"It used to be a volunteer sport first and foremost but there's more control from above now which has upset a lot of people and they don't feel the value is there and they give up which is not not good."
He said Education Queensland also needed to focus more on teaching children to swim.
"The time they spend in the pool is getting shorter and shorter and you're going to see more drownings soon – in fact, you already are."
He said he was proud of his time as president of Rockhampton High School P&C, with one of the school's ovals, KT Maguire Field, named after him in 2019.
"Rocky High was the first high school in Rockhampton to have lights on its football field," he said.
Among his many community roles, Keran served as President of the Parents and Citizens Association of Mount Morgan State High School in 2020 and held various positions including referee, coach and secretary of the Rockhampton Rugby League Association.
He has served as President of the Rockhampton Amateur Swimming Club, Secretary of the Rockhampton Junior Hockey Association, Treasurer of the Central Queensland Swimming Association and more.
He has fond memories of his time with high school rugby league.
"We became one of the largest schoolboy secondary school leagues in Queensland and would have 8,000-10,000 people at Browne Park. Rockhampton senior rugby league could only get 2,000 or 3,000.
"You can't get around this place – it's more than when the broncos are here."
Past honors include the Queensland Day Award (Rockhampton Community Service Club, 1995), the Jack Ross Memorial Award (Queensland Teachers' Credit Union, 1991) and Lifesaver of the Year (Emu Park Surf Lifesaving Club, 1981).